iSSi is part of a larger consortium consisting of alliances between: iSSi (Vancouver), founded in 2000, Endeavor Consulting Group (Wayne PA, USA), founded in 2006, and Pangaea Solutions Inc. (Vancouver), founded in 2011. iSSi and Endeavor are service-oriented and specialize in providing a range of SAP services and delivery to customers in Canada, Australia and the United States, respectively. Pangaea, while also a separate company, is the development, marketing, and sales arm for SAP products offered by the consortium.
With expert support from our partners, we enable our customers to reach their full SAP potential by providing services and products that accelerate and enhance standard SAP functionality. There is a degree of shared ownership among the three entities, which provide mutual support, collaboration on projects and software initiatives, and shared resources.
iSSi and Endeavor regularly interface and collaborate with the management and staff of a number of SAP consultancies, on both a formal (business initiatives) and informal (project or sustainment resourcing) basis.
Our Vision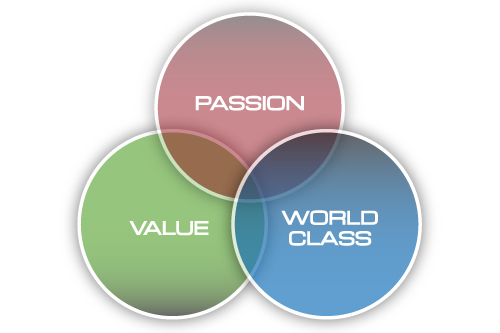 The business drivers of iSSi and Pangaea are based on the concept of the 'Three Circles': Passion, Value and World Class.
Passion encompasses concepts such as inspire, motivate, encourage and mentor. We see ourselves as a partner to the client, seeking what's best for them, representing their interests, and working hard to ensure that they succeed. The client's interests are our interests.
World Class denotes excellence across all phases of the project life cycle: excellent communication, presentation, documentation, development, testing, and cut-over strategies. It applies equally to products. Excellence requires attention to detail, a forward-looking and innovative approach, and use of practical and reliable technology.
World class without results is meaningless. The vision of world class is only as good as the end product and the value that are delivered. Value is reflected in delivery, success, helping customers become the best in their industry, and adoption of best practices.
Value is closely tied to timely, efficient delivery of high quality solutions. Efficiency is a key consideration, which enables iSSi / Pangaea to expedite the delivery of business solutions. To a large extent, these efficiencies are delivered through the use of technology-based 'accelerators', which leverage elements already in place to provide effective and durable business solutions.
Our success is based on who we are, what we do best, and the difference we make – passionate people delivering world class solutions to enrich our customers.
Endeavor Consulting Group specializes in project management, technology and integration consulting services with a focus in the life sciences sector (e.g. biotechnical, pharmaceutical, healthcare) while expanding into other markets. The company provides a wide range of IT and business consulting services to major customers on five continents. Customers include AstraZeneca, Bristol Myers Squibb, Johnson & Johnson, McNeil, Modular Mining Systems, and Pfizer.
PSi develops markets and sells SAP products and accelerators on behalf of the consortium. Key business activities, with expert support from iSSi / Endeavor as warranted, include:
Coordinate product development through the development lifecycle
Create and manage all product documentation including both technical and user-oriented materials
Develop appropriate marketing and sales materials and strategies
Coordinate and manage all aspects of product sales
Coordinate / facilitate deployment of products at client sites
Ensure that customers are trained, able and confident