Driving your Digital Lifecycle to the Finish Line
Does your organization require a brand new Solution Manager implementation, or an upgrade to the latest version? Our specialists provide expertise for the full lifecycle of your upgrade or implementation projects to ensure a successful outcome for your business.  Our Solution Manager specialist will start by providing you with a precise Road-map and Implementation Plan to get you to the finish line. Our team specializes in Change Management, Governance and Solution Documentation and will work with you to understand your business processes so we can facilitate change in your organization. Our team understands the chaos that can come from managing change in a complex landscape but our specialist can walk you through the change process, highlighting pain-points along the way, and suggesting best-practice solutions to help remedy them. Our specialist will make it easy to control and manage changes throughout the process and landscape, getting to production in a controlled manner.
Our Solution Manager Consultant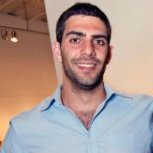 David Maloon
David is a senior developer and SAP Solution Manager expert with several years of experience helping organizations manage change in complex landscapes. He specializes in Solution Manager implementation and customizing Change Request Management. David helps organizations determine areas of improvement for their existing Application Lifecycle Management systems, enabling organizations to further optimize their processes. He has successfully led and executed projects across a broad spectrum of industries including pharmaceuticals, mining, utilities, software and more.